Try all the Adobe Creative Cloud apps with extra perks for only $30
Get three months of Photoshop, Illustrator, After Effects, Premiere Pro, Lightroom and more. Plus, you can stack codes to get longer access.
We may earn revenue from the products available on this page and participate in affiliate programs. Learn more ›
New Adobe customers can get three months of 26 Creative Cloud apps and bonus features for only $39.99.
Adobe Creative Cloud has tens of millions of users each year. Whether you're a photographer editing images in Photoshop, a graphic designer creating in Illustrator, or part of a corporation using Acrobat Pro, professionals worldwide rely on Adobe apps for maximum creativity and productivity tools.
If you're a new Adobe customer, you can get a 3-month subscription to 26 Creative Cloud apps and other perks like free assets, 100GB of cloud storage space, and even training courses on Adobe's apps. You can even purchase multiple codes and stack them up for future use. Grab yours for the lowest price online, only $39.99 (reg. $247.47).
A massive suite of creative apps
Creatives unfamiliar with Adobe Creative Cloud may appreciate access to all 26 apps. Instead of purchasing separate subscriptions to give them all a test drive in your projects, grab this bundle and see how many of them you can use. You'll receive the following:
Photoshop for beautiful graphics, photos, and art.
Illustrator for designs, illustrations, and vector graphics.
Premiere Pro for professional video and film editing.
InDesign for page design and layout for print and digital media.
After Effects for motion graphics and visual effects for film, TV, video, and the web.
Lightroom for editing, organizing, storing, and sharing photos.
And 20 more Creative Cloud apps! Check out the complete list of software on the sale page.
Extra perks and stackable codes
With the apps, you also get 100GB of cloud space to store your creative projects. Plus, use millions of free assets and templates in Adobe Stock, Adobe Fonts, Adobe Express, and get access to all of the latest features. And if you don't know how to use Adobe's creative apps fully or need a little refresher, you could check out the included training courses. Novices and masters alike will appreciate these thoughtful courses and gain proficiency in several apps.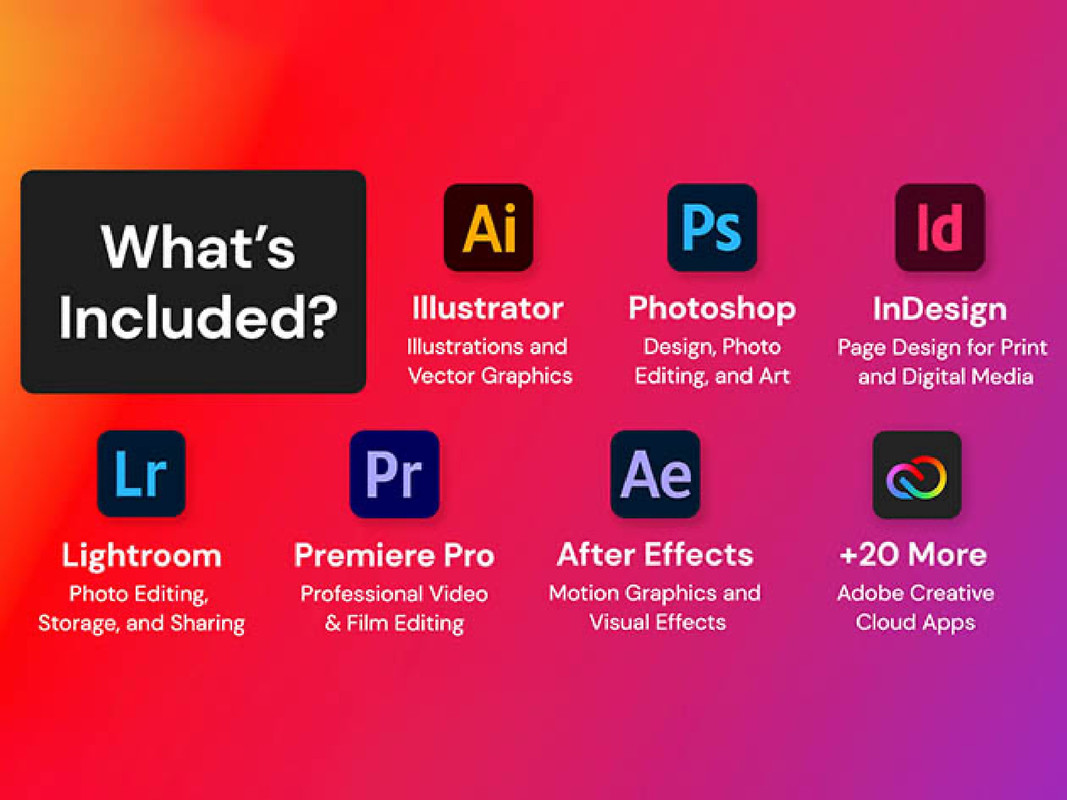 If you'd like more than three months of access, you can purchase and redeem multiple activation keys. While you'll still have just 100GB of cloud storage, you'll get additional months of access for every code purchased. For example, you could buy this deal twice and stack up six codes for six months of access. Just be sure to review your renewal plan terms for when your subscription eventually runs out.
New customers can get three months of Adobe Creative Cloud with all apps and 100GB of cloud storage for just $39.99 (reg. $247.47), no coupon needed.
Prices subject to change.